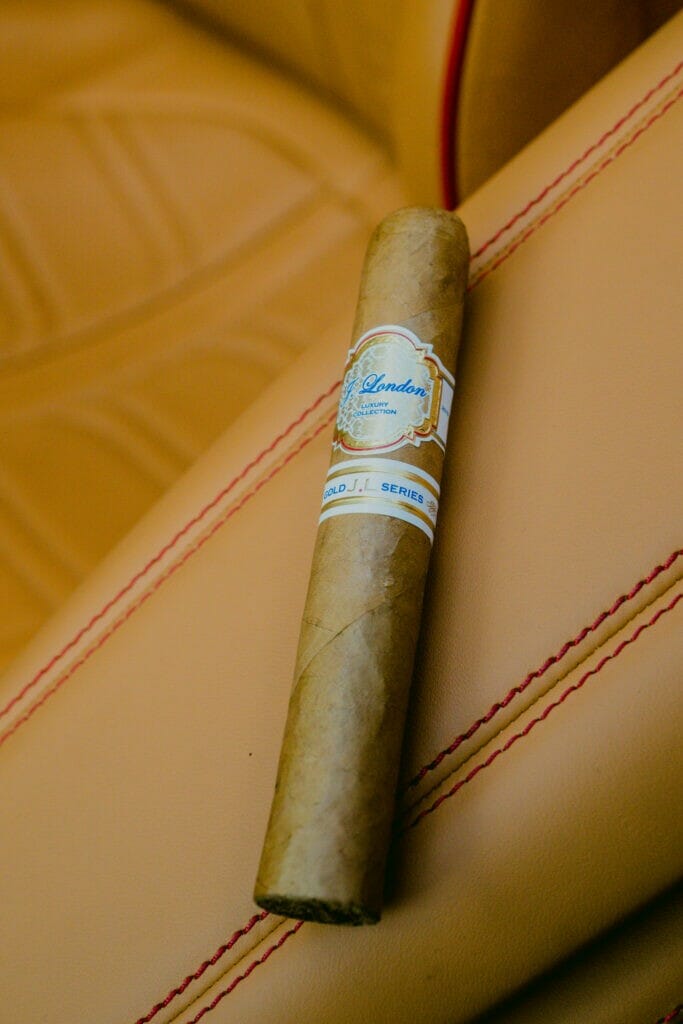 The J. London Gold Series™ are draped with a golden brown Ecuadorian Connecticut shade wrapper leaf that is silky to the touch. Only premium, aged tobacco that have completed multiple fermentation processes are selected, and only the most skilled rollers in the factory are chosen to roll these luxurious cigars. The result is an elegant, mild to medium strength cigar with a medium to full body, an even burn, an effortless draw, and a velvety smoke with a creamy, floral, cedar, wheat, and hints of sweet vanilla notes that will envelop your palate and provide a savory and smooth smoking experience.
Flavor notes: Creamy, Floral, Cedar, Wheat, and Sweet Vanilla
Pairs great with: Coffee, White Wines, Champagne, Most Red Wines, Lowland or Islay Scotches, Tequila, Moscow Mules, Martinis, and more…
Country of Origin: Dominican Republic
Factory: Tabacalera William Ventura
Wrapper: Aged Ecuadorian Connecticut
Binder: Aged Ecuadorian Connecticut (wrapper grade)
Filler: 3-4 Year Dominican Fillers
Limited Availability: Each box is produced in a limited quantity on an annual basis.
Sizes:
Robusto (5 x 50)

Toro (6 x 54)

Lancero (7 1⁄2 x 40)
Lonsdale (6 1⁄2 x 42)
Box Press Robusto (5 1⁄2 x 

52)

Belicoso Finos (5 x 52)

Fat Robusto (5 x 56)

Queen's Guard (4 1⁄8 x 38) – Limited to

retail locations

marked with an asterisk (*)

Box Press Churchill (7 x 50)

"A" (9 x 45) – Exclusive to

Sir Louis Cigars

Piramide (6 x 52) – Exclusive to

Luxury Cigar Club

Wedding Cigar (6 1⁄2 x 52) – Exlusive to

Luxury Cigar Club
Accolades: