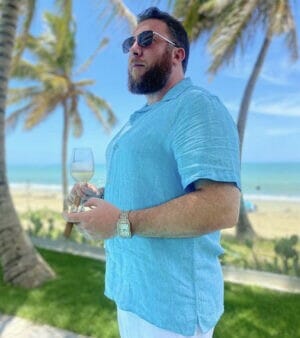 Has a passion for exquisite aged and rare cigars that spans over a decade. While traveling the world on business, he frequently made trips to London where he quickly fell in love with the city and cigar culture. That is the origin of the J. London name.
His mission, when creating the J. London cigars, was to produce an ultra-premium cigar that was on par with the vintage, aged, and rare cigars he loves.
Jonathan has been featured in numerous cigar publications. He enjoys helping extraordinary people meet over the common bond of extraordinary cigars and liquors.
Launched in 2014, the premiere of the J. London Gold Series™ was at a private club, The Marquee in Houston, TX. Utilizing the skills of William "El Maestro" Ventura, the former manager of Davidoff, using the best rollers in the factory and constant quality control to produce a quality hand-crafted product, the Gold Series was born. Initially launched with two vitolas, the Robusto and the Lonsdale.
Launched two new vitolas, the Lancero and the Toro.
Launched a new vitola, the Box Press Robusto.
Launched five new vitolas, the Belicoso Finos, the "A", the Fat Robusto, Box Press Churchill, and the Queen's Guard.
Launched a new vitola, the Piramide, and a new line, The Telephone Booth Series.
Launched a new line, the Ripper.
J. London Brands strives to create memorable experiences through hand crafted consumable art.
01. PREMIUM CIGARS
Our passion drives us, premium blends for the premium palate
02. QUALITY PRODUCTS
Quality control at every level
"J. London cigars are exquisite in flavor, masterfully crafted, and deliver the best experience you can get from a cigar. Go experience one today!
"I have had the pleasure of smoking J London cigars and they have been some of the better cigars I have had. The construction, smell, flavors, they are true luxury. Looking forward to stopping by your shop to light one of my all time favorite sticks